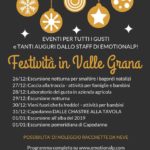 in couple, in family, with friends … Valle Grana awaits you ….
we are waiting for you for a weekend, breakfast, lunch, or dinner with our menus and dishes al
Half board starting from € 49 *
children up to 12 years old 30 euros
0-4 years free!
* for stays of at least 3 nights.
per il tuo tempo libero:
pattinaggio su ghiaccio a Pradleves     www.pistadipattinaggiopradleves.it
animazione e ciaspolate con http://www.emotionalp.com
cultura e mostre con http://www.filatoiocaraglio.it/